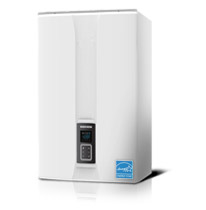 Ultra Condensing Efficiency
Navien's Condensing Technology offers the high efficiency.
Money and energy savings over tank type water heaters and traditional water heaters.
Two Stainless Steel Heat Exchangers
Provides longer life expectancy as they are highly resistant to corrosion and erosion compared to copper heat exchangers.
Reduces minerals deposits.
Low NOx Emissions (≤ 20ppm)
New metal fiber burner is designed to deliver a consistent air/gas mixture improving combustion efficiency.
Result in less acid rain and less green house effect.
Comply with SCAQMD 1146.2 strict NOx emissions standard.
2" PVC, CPVC, Polyprophylene Venting Up To 60'
2" venting option allows for a flue to be pulled through the existing vent.
3" vents can be used up to 150' with standard 2" x 3" adapters.
Utilizes Existing 1/2″ Gas Line
The negative pressure gas valve and fan with dual venturi operation allows for better adaptability to low gas pressure applications.
Makes it possible for the NPE to be installed 1Ž2" gas lines up to 24'.
Field Convertible
NCB models allow for easy convertibility from NG to LP.
Where Technology Meets Ecology, Combination Boiler
The ideal solution for customers who need both domestic hot water and a space heating application.
Heats water when needed, making it environmentally sound as well as cost efficient.
Hydronic Heating Benefits
Clean: little chance to cause dust or lower humidity because there is no air movement.
Silent: offers silent heating because no blowers are needed for forced circulation.
Comfort: keeps floors warm but indoor air fresh, making people feel warm and comfortable.
Coverage: radiant heat makes heating from floor to ceiling possible.
Economical: radiant heat in the floors can transmit warmth throughout the house hours after turning off the heater.
Automatic Water Filling System
Automatically fills water into space heating pipes when the unit senses a water shortage.
Powerful Anti-Freeze Feature
The Combi's built-in Control System is designed to keep the unit's plumbing frost free in winter conditions.