Heating & Cooling
Energy Savings and Air Cleaning
Freedom 95 Comfort-R Variable Speed Furnace
Ultimate efficiency meets superior comfort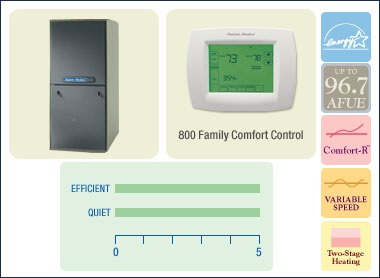 Key Benefits
Provides two-stage heating, running at an energy-saving 65% capacity more than 80% of the time, which reduces temperature swings and may help lower your heating bills*
Converts up to 96.7% of the fuel you pay for into heat for your home
Significantly surpasses government efficiency standards, helping you save on your energy bills while reducing greenhouse gas emissions*
Qualifies for a possible federal energy tax credit**
Runs quietly and evenly distributes warm air to every room with its variable speed fan motor
In the summer, Comfort-R helps keep your home cooler by reducing indoor humidity
Its heavy steel insulated cabinet is durable, quiet, and holds more heat in the furnace to better warm your hom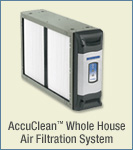 Key Benefits
Removes up to 99.98% of allergens from filtered air
Catches particles even smaller than .1 micron in size
8 times more effective than the best HEPA room appliance
00 times more effective than a standard 1″ throwaway filter or ionic-type room appliance
Delivers cleaner air, and more of it
Reusable filter is easy to vacuum or wash
Breathe Easier
American Standard AccuClean™ Whole House Air Filtration System
You don't have to have a family member who suffers from asthma or allergies to appreciate the health benefits of home Air Cleaners. In some ways they're the most important elements of home comfort.
That's why we offer American Standard AccuClean™ – the most advanced way to filter and clean the air throughout your entire home. AccuClean™ removes up to an unprecedented 99.98% of unwanted particles and allergens from the filtered air in your home.
New Install or Repair, Call Today!
Seattle Metro Area                     (206) 622-3303
Bellevue & Eastside                   (425) 455-8818
Everett & Snohomish Co.         (425) 778-0864
Tacoma & Pierce Co.                 (253) 627-2727
Toll Free                                       1-800-978-8588
Learn more about our amazing customer
service from other customers!
Read our mission statement
and get to know us!