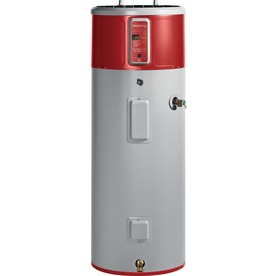 THE GEOSPRING HYBRID ELECTRIC HEAT PUMP HOT WATER HEATER:
Saves approximately $376 per year—that's $3,760 savings in energy costs over a 10-year period.
Uses less than half the energy compared to a conventional 50-gallon tank water heater.
Operates at 550 watts in Heat Pump mode vs. 4,500 watts in standard electric mode.
Reduce water heating operating costs by approximately 67%.

Reduce 62% CO2 emissions from the US grid associated with water heating.

Save up to $3,760 over a 10-year period based on the national average electricity cost of 12 cents per kWh.

If just 25% of U.S. households purchasing a new electric water heater in a given year were to choose GE's hybrid water heater over a standard 50-gallon electric water heater, more than 4 billion lbs. of CO2 emissions from the U.S. grid could be avoided annually. 

That's equivalent to the annual emissions of more than 360,000 cars on U.S. roads.